COME FOR THE FOOD & DRINKS, STAY FOR THE EXPERIENCE!
We're always ready to hear from you. Come visit us for the fun and the best comfort food in downtown Blue Ridge, Georgia!
The Food
The Dogwood offers a select menu of 14 items we promise will blow your mind. From our specialty Smash Burger to a Steak Frites Au Poivre, you're in for something special. Our menu at The Dogwood is full of the best comfort food favorites that we know you'll love. Trust us when we say our portions are made for sharing, because you can't finish these on your own. Bring some friends, a date, or your family and enjoy some amazing food to share! If you're looking for a more formal evening you can try The Black Sheep two doors down and come back for some drinks to finish out your night!
When you come to The Dogwood, the drinks are the main event! Drinks are specific to each person, so we want you to customize your experience. Come into our beer garage with over 70 options and make yourself a unique pick to you to bring back to your table. The Dogwood also has a full bar with craft cocktails and a specially selected wine list. This is the perfect place to have happy hour, a few drinks with friends before going home, or hang out all night!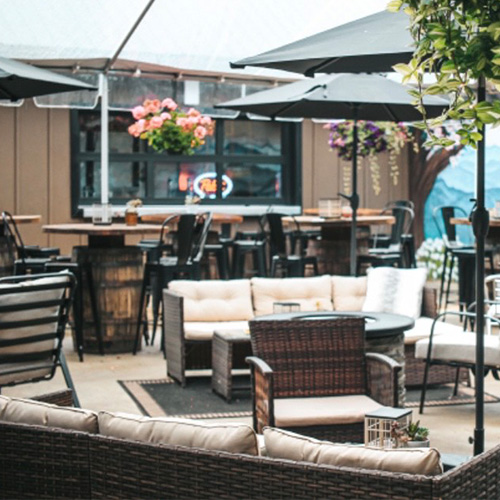 The Dogwood Experience
The Dogwood is about the whole experience, which includes the ambiance. When you come to The Dogwood you'll be greeted by our friendly staff and seated in the oldest home in Blue Ridge. Enjoy our delicious food, large beer selections, craft cocktails, and specialty wines.